The issue of whether robots and AI will take over human jobs has been widely discussed and caused concerns for every profession. However, as the world is facing the Covid-19 outbreak, we have seen a mobilization of robotic technology to assist the healthcare workers who are at the front line of our fight against this emerging pandemic.  
Dr. Mahisorn Wongphati Chief Technology Officer of Obodroid Co., Ltd. and CEO of HG Robotics Co., Ltd., takes us back to the beginning of the CU-Robocovid Project. Co-founded by the research team and alumni of Chulalongkorn University's Engineering Faculty together with HG Robotics and Obodroid, the project aims to produce 200 medical assistant robots for hospitals nationwide through donation. The CU-Robocovid project was initiated before Thailand started introducing lockdown measures and the number of infected cases worldwide continued to climb in contrast to the limited supply of medical equipment.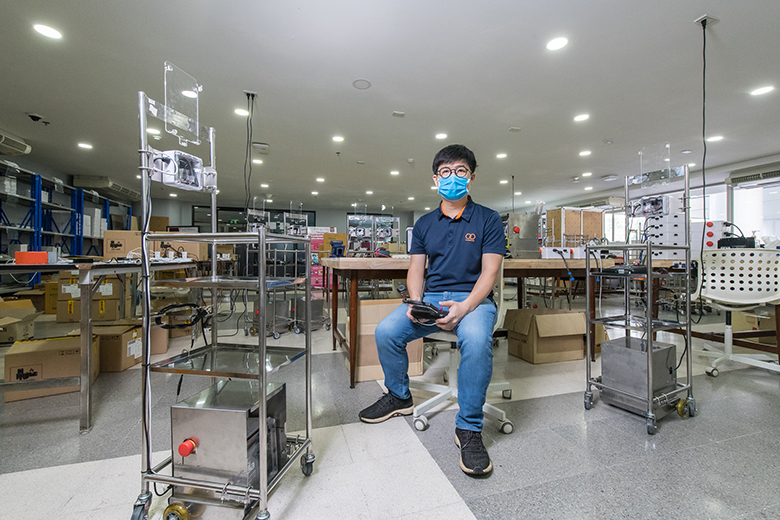 How did the CU-Robocovid Project come about?
The project was initiated around March 12-13 when the seniors at our faculty saw the rising number of infected patients. As we work with robotics, we had a talk with the doctors about how we could help. On March 15, the doctors invited us to their hospital. At that time, we had no idea they were taking us into the ward of Covid-19 patients. Those patients were among Thailand's first cases and they were isolated in Negative Pressure Room. We saw that the patients could take care of themselves as usual but the doctors and nurses who went in to examine them had to wear personal protective equipment (PPE) that must be changed every time. If they forgot something or need additional equipment, the newcomers must wear new PPE which is inconvenient. Another challenge was how to help the doctors to examine the severely infected patients without entering the room which will help lower the risk for them and how to deliver various equipments to the patients during examination. Those became our two main challenges: the device for delivery food and drink to patients and the device that lets healthcare workers talk remotely with patients or Telepresence.
Once we had our briefs, we went back to the faculty and used what we had in our lab to develop the first prototype which took us around two days. Then we tested it at the Chakri Naruebodindra Medical Institute, Ramathibodi Hospital. We had the nurses try controlling the robot to deliver something and collected the feedbacks to make improvement. After that, we brought the robot for testing at a few hospitals and make adjustments until it became the prototype of our current robot.
How long does it take to develop each robot?
"Pinto" is a rather simple delivery robot. It's like a controllable stainless tray with a clear function. It took us around three days to develop the prototype because we didn't make the steel structure ourselves. Instead, we bought a ready-made trolley for use in hospital and modified it then put it to test right away. We already had the prototype circuit used in robot competitions and certain equipments that HG Robotics uses to produce drones. We used that as starting tools and then chose which parts to use in real production. The result was a mid-sized robot that can move in narrow space because most hospital space is quite busy. If the robot is very big and heavy, it won't be easy to function. As for the software and the Mirror robot which serves as a Telepresence system via tablets, we develop them simultaneously. The first version took two weeks. At present, our system is rather stable now and mainly used in hospitals that treat Covid-19 patients.
What is the main function of the Mirror robot?
It's like a VDO Intercom. Doctors can call their patients directly. The patients don't need to pick up to answer the call and can't use the screen. It's up to the policy of each hospital whether they want the patients to be able to make a call. The software we have developed can be customized to each ward so that it can meet the specific needs of each hospital. For example, the Chakri Naruebodindra Medical Institute started with an installation in its ward and then moved to ER. Now they use it in an operating room and keep adapting. If you wonder why not use LINE, Zoom or Google Meet? The simple reason is the setup is inconvenient and we intend for the image to be high quality and clear enough for hospital use. We choose the tablets that are durable, water-resistant, drop-proof and can be cleaned by rather strong disinfectant.
What are the keys to designing robots to help healthcare workers in the fight against pandemic?
We aim for an extremely user-friendly design so that doctors and nurses can use it within 5 minutes. Therefore, we use the hand control system which is rather easy to control. When we developed the first robot, we thought about how long the battery must last and whether it should be rechargeable. The nurses told us not to make them change the battery themselves because they would break it. So we use higher capacity battery that doesn't need to be changed. Next, we considered how they would clean it. At that point, we ruled out nice fiberglass material and used stainless instead since it is durable and washable with water. The reason the tablet and the robot don't look nice is because they are water proof.
The reason we didn't make autonomous robots is because hospital space is rather complicated and constantly changing such as moving tables. Autonomous robot development is rather difficult and inconvenient. Humanless, autonomous system means no human involvement. And that means the AI must be super advanced. At present, no robots can do that yet. Current autonomous robots can perform only highly specific tasks. Therefore, to produce autonomous robots for use in hospital space that is full of equipments, we must design everything. However, the environment may change tomorrow so the robot must not be a burden to its controller and the healthcare workers must still be able to do their jobs fully. So the Pinto robot is designed mainly for delivering food so that the doctors and nurses no longer need to wear PPE which take them 15-20 minutes to change into. 
What are the frequently found problems in this project?
We want to develop something perfect but it's not possible in practice due to time restraint. We must make the decision on which point would be OK and then move on to develop the next thing. Right now, we try to modify and make prototypes quickly because we receive a rather large donation. Our goal is to make approximately 200 robots. The next problem is, to produce 200 units of the same thing means we need 400 motors, 400 wheels and 200 remote controls. Everything must be multiplied by 200 but we don't have enough domestic supplies. How do we import them? That's another challenge. Thankfully, HG Robotics has the suppliers who are absolutely willing to help and increase their production in order to deliver the supplies in time. So we have the equipments for the first 100 robots and are gearing up for the next 100. 
The private and public sectors should support and invest in the technology industry more after this.
Actually, robots are designed from the start for 3D jobs: Dull, Dirty and Dangerous. Covid-19 meets all three of those conditions so robots are the right answer. But how to produce them quickly?
If we look at the R&D budgets of Thai companies or organisations, the figures are very low. If we want to develop our own technology but those figures don't rise, it will be difficult to happen. Those technologies must go through trial and error. If we are not supported by the faculty's budget and the donation, we won't be able to make this many robots. And our company has gone through enough trial and error to know what we should not do. That allows us to develop the robots quickly but there're still mistakes. We must admit those mistakes and fix them, then move forward.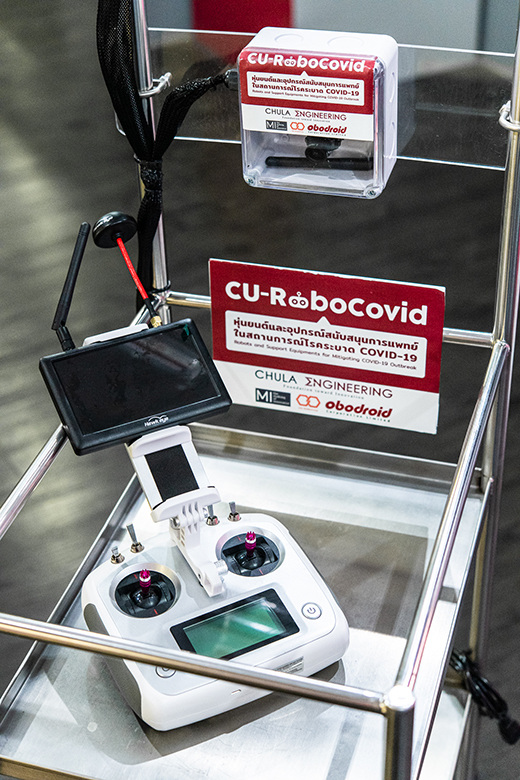 Is there any plan to develop robots or AI for other medical purposes, in case of future pandemics?
The Chulalongkorn University has many medical robots such as Ninja which has temperature sensor. Many people are already working on such robots. As for CU-Robocovid, we focus on developing "Pinto" for delivery of medicines, food and other equipments as well as the Telepresence system. Other features can be added in the future because our tablets have sufficiently high capacities. That will happen after we have sorted out the donation and distributed the robots to the hospitals. And we hope that those robots will serve as the tools that show the doctors and nurses how technology can help in the treatment as well as the protection of healthcare workers, patients and everyone involved. 
Recently, there have been concerns that robots will take over human jobs. But now robots have turned out to the heroes that save us instead. What are your thoughts on how public opinion towards robots has changed?
Obviously, we can't tolerate disease. People who work in dangerous, dull and dirty jobs should get better opportunities. We don't have enough healthcare workers and they shouldn't have to take the risk so it's better to let robots handle some of their tasks. Therefore, I think it's up to each person's outlook whether robots will "take away the jobs" or "help make everything better". If the cleaners who must work on busy, high-speed roads are replaced by robots and become robot controllers or maintainers, they'll get to work in safer environment without risking their lives. By looking at it this way, I think everyone will understand that technology will fulfill such needs. No one wants to do dangerous, dull and dirty jobs but they don't have any choice.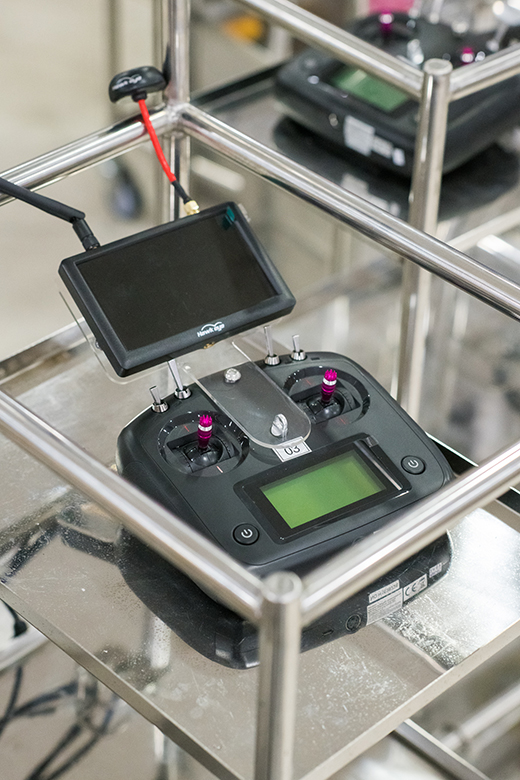 Some analysts think that Covid-19 is disrupting the world in every aspect. Others say that it's an accelerator that urges people to adapt quicker to digital technology. What are your thoughts on this?
I think of it as an accelerator and a force of hand because there's no alternative right now. No one wants the pandemic to happen. But as it already does, the people who are ready to handle it are those who are already working with this technology. Before, workers have to put up with those dangerous, dirty and dull jobs to a certain extent, but if we have to deal with fatal new diseases, that means there's no way left to protect ourselves. Using robots seems to make more sense all of a sudden after people used to look at it as nonsense. 
Which part of the Thai public health system should be improved or complemented with technology? Or what kind of innovation should we have as the standard for public health services?
I think our public health system is "very good and comfortable compared to other countries". Our medical professionals are already delivering high quality services. The rest would be the supporting tools that enable them to work in this situation as they should be able to. From the top, from the bottom and from all around, the public health security should be clear. That's because the healthcare workers in provincial hospitals are already working 120%. So it's not just about innovation, but we must have effective management system and government policy.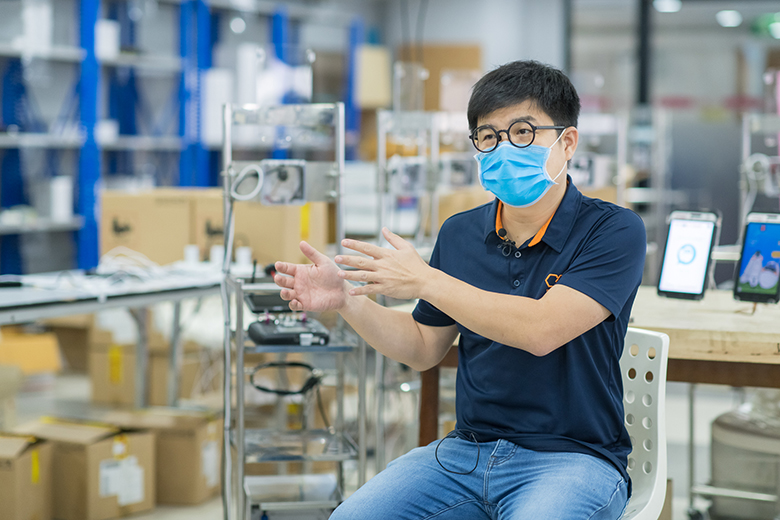 Therefore we have to spread the technology to reach as many groups of people as possible, right?
Yes. Actually, our robot project was initiated to spread the knowledge since the first day Khun Sukhum Sattarattana, our team member, and I went to collect the data at the hospital. We prepared a presentation and sent it to the robot development team to tell them what we had found and what kind of situation it was along with our prototype design and the feedback of our test. What we do must not be a burden to the healthcare workers, but a help to them. The responses we received were rather interesting. You might see from the news that there are now many robots like Pinto. For example, Tad Lum from the Air Force research team and Takra. The idea is similar: remote-controlled delivery robots so that they are easy to use. Therefore, robot technology will become widespread. Open and honest knowledge sharing is essential in driving technology development and giving credits properly will be an encouragement to the developers.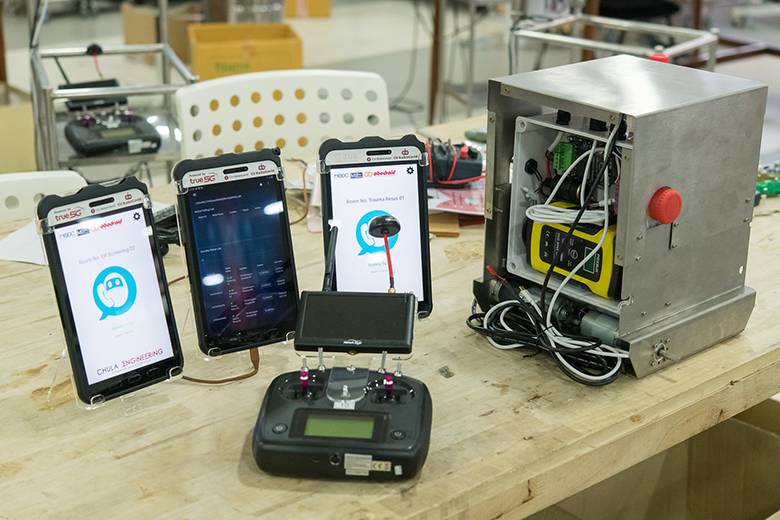 What have you learnt from working together with the healthcare workers and everyone involved with this project?
Putting aside the restraint of time and resources, what I've learnt is we have already prepared ourselves before knowing that such situation would occur. We already have the professors and staff who are ready to help out. We have the suppliers. We have the doctors who are willing to give us information. Those are the essential elements that make possible the adaptation of technology. If we have to handle something more severe in the future without more preparation, we may not be able to handle it. I think this issue must be communicated to the policy maker that science and technology security is critical. It shouldn't be a quick win approach such as buying certain technologies and saying that we can do it while it's still being produced elsewhere by someone else and we have no idea how it was made. I think that's not the answer to the future where there will certainly be more severe risks. 
Currently, we have enough budget for making approximately 200 robots and 700 tablets for hospitals countrywide. If the situation improves, the hospitals will adapt this technology in dealing with other infectious respiratory diseases such as tuberculosis which can spread through the air. That'll help healthcare workers to avoid direct contact with patients. And there are other infectious diseases that still need such equipments. Therefore, Thai public health system must handle not only Covid-19, but also other challenges that require mutual support. We may even help out our neighbouring countries in the future. If it really gets to that point, we must consider which direction to go next. But we hope that the pandemic will end and everything will get better or we might starve before getting rid of the disease.