Obodroid Corporation Limited held "Living with Robots", a seminar to launch the company and its robots, which will serve residential projects including those of MQDC (Magnolia Quality Development Corporation Limited), enhancing quality of life and sustainability.
Mr. Polnut Chalermwan, CEO of Obodroid, said the company develops service robots and artificial intelligence (AI) technology to provide sustainable quality of life in partnership with the leading property developer MQDC. The robots will operate in residential properties and other business segments, extending to general services, raising life quality for residents and the general public.
The company's debut showcased KAITOMM, a companion/personal assistant robot, and SR1, a security robot. Obodroid has also jointly developed PINTO, a delivery robot linking medical personnel and hospital patients, and MIRROR, a tablet to help medical teams and reduce the risks of exposure to COVID-19 in hospitals across Thailand.
"Obodroid is focused on developing service robots and AI technology to serve the people of Thailand and provide enhanced, sustainable quality of life. Robots focused on quality of life can provide security at residences, for example, and interact naturally and efficiently with users. Obodroid unites Thailand's leading engineers in robotics and AI. The company focuses on research and development for service robots in functions such as security, receptionist, advertising, delivery, companion, personal assistant," said Mr. Chalermwan.
Dr. Mahisorn Wongphati, Chief Technology Officer (CTO) of Obodroid, said that KAITOMM is a companion/personal assistant robot that makes life easier for all ages, connecting them quickly and easily with everything on the planet. The robot understands commands and can talk with users in Thai and English. It can link with home automation to control lights and electrical equipment. It can also connect with medical devices to measure vital signs to help maintain its user's health. A built-in camera can be used for security and video calls. Other functions include reminders, alarms, prayers, and weather checks. KAITOMM is suitable for use in residences as an assistant caregiver for users of all ages.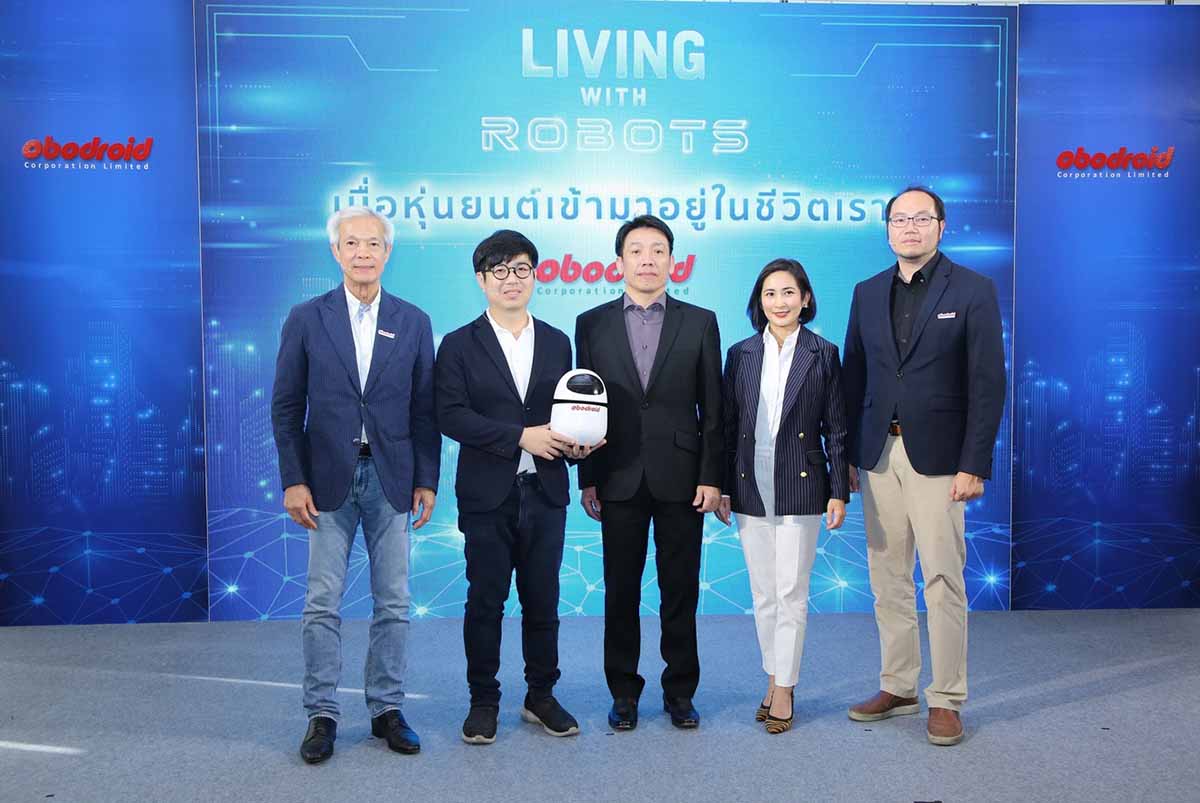 SR1 is a security robot that can follow a set route through its Auto-Navigation System. It carries a 360-degree camera to collect information, images, and sounds. The robot has artificial intelligence (AI) to identify items such as faces, objects, animals, or weapons and to send swift alerts to security staff. An emergency call function lets residents or bystanders instantly request emergency assistance. SRI is suitable for maintaining security at residences, department stores, and other large spaces.
Obodroid's team is proud and honored to have worked with the Faculty of Engineering of Chulalongkorn University (MI Workspace) to produce PINTO, a prototype Quarantine Delivery Robot that can be controlled remotely, and MIRROR, a mini robot tablet to help patients communicate with medical staff or request assistance without having to touch buttons. This technology reduces the risk of patients spreading COVID-19 and helps keep surfaces free from pathogens, helping doctors and nurses in this critical situation. The robot and tablet are independent of other systems and can be installed without additional tools or structures, letting doctors and nurses use them immediately. The robot and tablet have been distributed to hospitals in every region of Thailand.
Dr. Karndee Leopairote, Chief Advisor of FutureTales Lab by MQDC, said that the futurology center has gathered valuable data about the future of robotics. The International Federation of Robotics (IFR) forecasts exponential growth for the robotics industry of 31% to 48 million devices by 2021. Service robots will be the leading segment, becoming part of everyday life and disrupting many established industries unless they adjust. Thailand will lead ASEAN in robotics, welcoming the Robotic Economy. IFR data shows that Asia is the world's leading market for robotics, accounting for over 60% of the global market. Thailand's industrial robot market is forecast to expand 19% in 2021, the fastest growth in ASEAN and the fourth highest globally, after Brazil (33%), India (26%), and China (22%).
"Society will open up to accept the use of robots as part of everyday life, rather than just a symbol of modernity. Accelerated by the COVID-19 epidemic, more and more people are open to using robots to enhance hygiene and maintain social distance. A case study from China's Huazhu Hotels Group, with over 5,700 branches nationwide, found that robots providing services such as giving information or serving food made customers more confidence during the epidemic. Reflecting the positive image of robot technology in daily life, robots will inevitably become a part of society and the 'new normal'. While there are concerns that robots will compete for jobs, the robot industry will create employment. In the long term, robots will become closer to humans, helping in the service sector in areas like healthcare and eldercare, and enhancing the value of actual human services," said Dr. Leopairote.